Here is our dedicated page covering all the happenings at DTS.
Interviews and Video to keep you right up to date.
16th Feb 2017
DTS Startup100 - DesignWizard Set For Rapid Growth with 10 New Jobs
Just two months after launching its graphic design software onto the market, DesignWizard is set to expand its Cork headquarters with 10 new jobs available immediately at their Ballincollig base.
The company has just moved into a larger office space due to the growth of the inhouse team and are exhibiting at the Dublin Tech Summit on February 15th and 16th as part of the Startup 100 programme. DesignWizard won a coveted spot in round two of the event's pitch competition, earning them at 10 minute spot on stage today. The final of the pitch competition on the mainstage on Thursday.
The current round of recruitment is for software engineers, multimedia designers, marketers and support roles. DesignWizard offers employees an agile and fun working environment where they can develop their skills and their unique talents will be valued.
"At Design Wizard, our people are our magic ingredient." says Chief Technical Officer Aidan Casey. "Creativity and fun is at the heart of everything we do. We take our work seriously but not ourselves."
DesignWizard gives you instant access to over 1 million images. A dedicated team of researchers and designers add new images and templates every week. Users can simply choose from a gallery of templates or upload their own images and logos to create unique content in seconds.
"We want to broaden the scope of design to make it accessible to everyone", adds CEO Sean Prior, "and make it easier to express your creativity online and at home without the need for technical expertise.
********************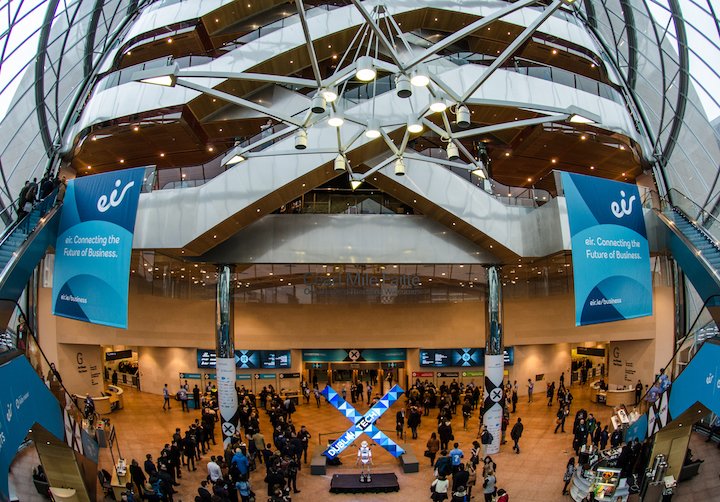 It was great to see so many startups attending the Dublin Tech Summit. The conference centre is a perfect location for events of this size. Plenty of space for the startups and attendees to mingle.
It was also great to see so many Women attendees, something that the Web Summit was criticised for over the years. The focus was very much on future tech and the mindset needed to be successful as an entrepreneur.
Gary 'Vee' was a big draw and obviously everyone wanted photographs with him afterwards. His straight talking has won him many fans across the globe. To get him speaking at such an event on its first run was amazing.
The volunteers were amazing. So helpful! If there was one complaint it was the food. No free drinks, no tea or coffee and things were expensive. A bottle water sponsor and a Coffee/tea sponsor for 2018 event would win over the thirsty.
We will feature individual startup stories over the coming days.
********************
11th Feb 2017
Dublin Tech Summit will welcome over 10,000 attendees to The CCD this Wednesday, 15 February and Thursday, 16 February. The first-year event has curated an impressive and diverse lineup including Gary Vaynerchuk, Jimmy Chamberlin, Cindy Gallop, Matthew Luhn and RoboThespian.
With 66% of attendees hailing from overseas, the two-day event is an opportunity to solidify Dublin's position as the European Tech Capital and showcase all it has to offer to a global audience. The conference will provide a chance to showcase the infrastructure, culture and talented workforce of the city. DTS CEO, Noelle O'Reilly, said, "Dublin is such a fantastic city to do business in. We wanted to provide a unique event that showcases that, as well as give the tech community in Dublin a chance to meet and learn from each other."
The conference has placed an emphasis on B2B networking and with over 46% of attendees being Director-level or higher from companies such as Google, Intel, Microsoft, PayPal, Accenture, Adobe, Facebook, HPE, Hubspot and Salesforce. Those looking to develop professional relationships will be in the right place. DTS has attempted to facilitate and simplify this networking via a DTS App, which attendees can download to enable them to reach out to each other ahead of the event, and an online meeting scheduling platform to enable meetups at the conference. Of the network-assisting technology, Noelle O'Reilly said, "DTS at its core is about simplicity. We wanted to make our attendees experience here as simple, straightforward and enjoyable as possible. Our app and meeting scheduling platform are designed to do just that and witnessing people connect online in the lead up to the event has been incredible for our team to see."
eir Business is one of the founding partners of Dublin Tech Summit and commenting on the upcoming event Bill Archer, Managing Director, eir Business said, "At the core of what we do is a strong desire to continuously seek out tangible ways to support and foster innovation across all spectrums of business. Ireland has a strong international reputation in technology and it's important that we continue to build on that reputation. DTS provides the perfect platform to attract global thought leaders and influencers and that is why eir Business is delighted to partner with the event as a Founding Partner. We want to connect global investors with new ventures, leaders, founders and influencers, and help build relationships across the two-day event. DTS has the potential to shape technology across the world and showcase Dublin as a global technology hub and we are genuinely excited to play an active part in that."
While the DTS audience is certainly of a high-calibre this isn't achieved by sacrificing diversity. The conference, in attempt to promote diversity in tech, provided over €400,000 worth of tickets to underrepresented groups in the industry such as women and students. Additionally, both women and students were enabled to apply right up until this week for a significantly discounted ticket. Ticket holders for the event are 48% female.
DTS wishes to extend a big thank you to sponsors who made this event possible. Thank you to founding partners eir and Failte Ireland. Other partners include Salesforce, Indeed Prime, Intel, Accenture, ComTrade, Atlassian, New Relic, Datahug, Oracle, Currency Cloud, Litmos, CityJet, S3 Connected Health, Equinix, IDA Ireland, Sungard, Enterprise Ireland, Aer Lingus, Wrike, Hibernia Reit, ehealth Ireland, Ankix, Engineered Arts, UNICEF, ScrumAlliance, Abtran, 3D4 Medical, Dublin Airport, CoderDojo, Dublin City Council, Monread CRM, Matheson and Samsung.
********************
10th Feb 2017
So this is the first of I am sure, many DTS events. The focus is just what Dublin needs!
After the loss of the Web Summit the Dublin Tech Summit re-emerges Ireland and Dublin as the Capital of Tech and Cool for the Tech glitterati.
I have been to every Web Summit since it started, I have covered hundreds of events and I cannot remember a time when the buzz was so good around an event. It has big shoes to fill but will definitely offer a much needed impetus to the Irish tech scene.
I am glad to see some great sponsors being a part of it and the speakers are top notch for a first time event. I think the DTS team will be proud of what they have achieved so far and I see great things for them in the future. I would try and remind them about one thing, whatever happens and however big you get, don't leave behind the place that made you.
Dublin's tech scene is one of the best in Europe and able to rival London and Berlin. It has the stories of the Celtic tiger to recount and the tales of the recreation of a new type of thinking around high tech companies in sectors like Fintech, Search, medtech and AI, This thinking allowed companies like Google, Microsoft and Paypal to to become of the local landscape. From this startups began to emerge and fill in the gaps across Ireland. Making it what is today,
So to all attending, do your homework before you go, Make you selections on what speakers you want to see, what companies you want to chat to and who you should network with.
Lastly,use the DTS App it is full of all you need to make this event great. I am on there and have used it to book all my appointments for the event, so do make contact if you want to chat at the summit.
Editor: Charlie OConnor
********************